Facing the Future: Flexible Offices Breaking the Norm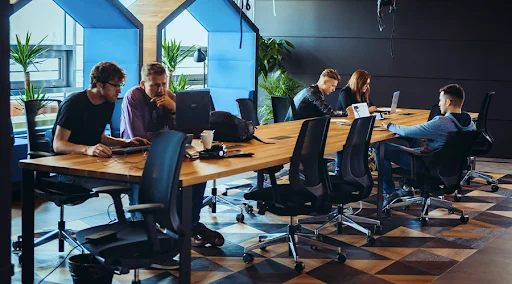 What can your business do to capitalise on the "new normal" of work? Flexible office spaces might hold the key to unlocking your company's potential.
Office spaces are changing forever. Since the COVID-19 pandemic, business owners and office landlords have had to rethink their office management strategies to conform with social distancing guidelines and keep people safe. But what does this mean for the future of the office? If recent trends are anything to go by, flexible offices spaces seem to be the most future-facing solution.
What Are Flexible Offices?
Flexible offices are designed and managed in a way that benefits the company (or companies) using that space. The layout can be tailored to the business' specific needs or preferences, allowing for greater flexibility in terms of how to run the business. Coworking spaces are slightly different in that they're open to freelancers, start-up companies and smaller businesses, but they're also flexible in that they allow individuals and companies to come and go without signing lengthy contracts.
What Makes an Office Space Flexible?
Being able to change the way you run your office can improve productivity and employee happiness, no matter the size of your company. Adaptability has been one of the keys to survival for many organisations in a challenging year for businesses. Now, companies of different kinds are leveraging the added flexibility required to nurture a more cohesive company culture, improve employee retention and save money on expensive office fees. 
But you're probably asking yourself, "what makes office spaces flexible?" and "how can flexible office spaces benefit my business?".
Moveable Office Furniture
Feng shui is the Japanese practice of arranging different pieces of your living space –– or working space –– to create balance with your surroundings. To establish harmony between the individuals and their environment, you must be able to arrange your workspace in a way that doesn't distort your focus or detract from the work you're doing.
Simply being able to move a few chairs for an important meeting or separate some desks for some quiet time with a project can completely change the way you work. These basic alterations can help your staff become more efficient and allow them added flexibility to work to their full potential.
Flexible Meeting Rooms
Due to social distancing guidelines, it's a lot more difficult to meet colleagues and clients in the same physical space. Having private, flexible, safe and comfortable environments where you can meet with your associates can promote better interactions, meaning you get more out of your time at the office with your various teams.
This can make it easier to synthesise ideas and encourage time-saving mini-meetings that can revolutionise your business' workflow. With the right spaces –– like those at The Brew –– meetings will become a breeze.
Improved Technology and Facilities
From super-fast internet connections to free refreshments, modern, flexible offices won't let anything hold your business back. You'll have everything you need all in one place, so there's no need to rush around on your lunch break, scrambling for the last sandwich at the shop. The Brew's fully equipped workspaces give you the flexible facilities you need, including super-speedy 1GB internet so you can upload your designs or transfer large files without a hitch.
Could Your Business Benefit From Flexible Office Spaces?
Moving offices could save you thousands of pounds a year in expensive office fees and repeatedly changing service providers if you've had to move offices more frequently. If you're tired of being tied into lengthy tenancy contracts, The Brew might well have the answer to your office woes. The offices on offer will allow your employees to work in the most inspiring spaces available, helping you look forward to a more successful, more flexible future.
Do you need to break away from your boring, expensive office space? Explore The Brew's various locations and flexible offices that will help boost your business' productivity and revolutionise the way you work.