Shoreditch: best location for your business?
As a Londoner, it's likely you're already aware of some of the reasons why Shoreditch is often deemed one of the best locations to live or socialise. But how much do you actually know about the E1 postcode when it comes to finding a home for your business?
The truth is, Shoreditch presents a whole list of compelling reasons to put it at the top of your list of working week locations. Whether it's during work hours or out of hours, Shoreditch is a unique area of central London that offers creativity, community, and those all-important chill out spots after a busy day in the office.
So, to help you deem whether this upbeat area with a big personality is right for you and your business, we've rounded up our top 10 pros of Shoreditch as the best location for your business.
Ease of access
A long morning commute can sap your energy before you've even sat down at your desk. Choose Shoreditch as your new working home and you'll have options upon options when it comes to getting to work. Liverpool Street, Old Street, Moorgate and Shoreditch High Street are all in or within walking distance of Shoreditch, and all are brilliantly linked tube stations to work hubs around London.
If you're a cyclist, then Shoreditch could be the best location for you too. The Cycle Superhighway 1 runs from Shoreditch to Tottenham, providing a dedicated route for those travelling on two wheels. Plus, with onsite showers at The Brew, you can freshen up with ease once you arrive at your desk.
Be in great company
Once called Silicon Roundabout, then rebranded to Tech City, Shoreditch is bustling with coders, developers, and entrepreneurs. Amazon moved its European HQ to the fifteen-storey Principal Place building in this part of London, whilst fintech darlings Monzo and Wise are also based in Shoreditch. Meanwhile, Microsoft opened Reactor, their accelerator for scale-ups, just behind Liverpool Street. And that's just for starters, there's a large and diverse ecosystem here covering sectors such as creative, digital, tech, financial and everything in between.
And of course, if you're looking to accelerate your own finance and funding, then you have crowdfunding platforms CrowdCube, Seedrs and Funding Circle all based nearby. On every corner of Shoreditch, you'll overhear techies excitedly chatting over a business plan, or entrepreneurs passionately pitching their product. So, if you're wondering if Shoreditch is the best location, then take our word that this area is positively brimming with talent and ingenuity.
On-trend office conversions
One of the things we love most about this London postcode is the wonderful variety of office buildings that are on offer. Refurbished and rebuilt many times over the past 400 years, the Shoreditch architecture is remarkable. This place isn't just awash with shiny high rises and soaring glass towers, instead, Shoreditch is full of converted buildings, offices with character and history.
Just like The Brew's own coworking office on Ebenezer Street, a creatively designed space, refurbished to the highest standards. We've been careful to retain the classic, mid-century design features of the space, offering pops of colour and beautiful furniture that'll inspire you and your team. A big plus for making Shoreditch your new best location this year!
Build your network and community
Being a popular spot for so many entrepreneurs and young professionals, all keen to learn and expand their knowledge, Shoreditch is the best location for networking. Throughout the year, you'll find plenty of events to take part in, including some hosted by The Brew ourselves. From guest speakers to social events for members – our coworking spaces play host to some fantastic events that create an opportunity for you to build your professional network! As well as providing a great way to simply socialise and unwind with a like-minded community.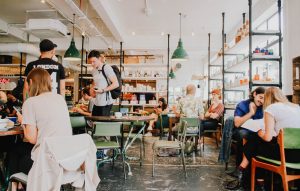 Take in some weekly culture
Shoreditch's independent cultural centre Rich Mix is home to three cinema screens alongside exhibition and performance space, plus a café and bar. Run as a charity, it's a vibrant arts hub and any given week could see it hosting an assortment of music gigs, theatre shows, art exhibitions, themed festivals and all manner of workshops. Rich Mix is the perfect way to take in some affordable weekly culture, enjoying a moment to switch off from work.
Find foodie heaven
You won't be disappointed when it comes to finding somewhere to eat in Shoreditch. From Michelin stars to market stalls, Shoreditch is the best location for some foodie fun.  It's here you'll find the likes of The Clove Club, Lyle's, Leroy and Brat. Each of these Michelin starred restaurants offer an ideal meeting spot to dine with clients, or simply to reward your own hard work!
And that's not to say that fine dining is the only way to eat in Shoreditch. This part of London is home to the world-famous Brick Lane, and the much-loved Beigel Bake, open 24 hours a day. And you'll also find the Old Spitalfields Market here too – a dynamic indoor market with more than 40 food stalls, 30 shops and lots of restaurants. It's one of London's oldest markets, having run since 1638 and is incredibly popular with locals and tourists alike.
And, if you're looking for a team-building activity that incorporates food and fun, then why not opt for the local free food tour – Strawberry fields runs an East End Food Tour where you decide how much you eat and therefore spend. The tour starts at Shoreditch High Street Station at 10.30am on Tuesdays, Thursdays, Saturdays & Sundays.
Brighten your walk to work
Choosing to make Shoreditch the location of your new work home will really brighten your day, quite literally too. Home to some of London's best street art, this area is an urban exhibition featuring pieces from some of the biggest names – yes, Banksy has left his mark here – and up-and-coming talents. You can join many of the street art tours that happen each week, or even download your own map and follow along, learning about the different artworks as you take a lunchtime stroll or commute home.
Impress with your meeting spots
Alongside traditional cocktail bars and cosy pubs of Shoreditch, there are also some particularly unique and unusual spots to impress your clients. One such location is Ballie Ballerson, the world-renowned cocktail bar come ball pit featuring over 1 million balls! Whether you choose to head to the VIP section, get down on the dance floor, or go crazy in one of the ball pits, it's an experience that will keep you and your colleagues truly entertained. Shoreditch best location for some weird and wonderful fun? Check!
Shop and stroll at Boxpark
Boxpark is Shoreditch's well-loved pop-up mall. Five years in the making, Boxpark offers an eclectic mix of independent shops, bars and events. While the bottom level is filled with quirky design shops, coffee shops, and affordable restaurants, on the top you'll find bars and late-night eateries. It's super compact and right in the heart of Shoreditch – a great all-encompassing venue that offers something for everyone.
Create your own balance
Because of the range of office solutions available in Shoreditch, it's possible to do the working week your way. You needn't be tied into big coworking contracts, or take out a long-term lease on a private office, instead you can choose a coworking space that's right for your own commitments and working style.
At the Brew, we offer all manner of options so that working away from home is as productive and convenient as it possibly can be.  From hotdesking to affordable private offices, from bookable meeting rooms to permanent coworking desks – our solutions are built for balance. Enabling you to make Shoreditch the best location for you in 2022.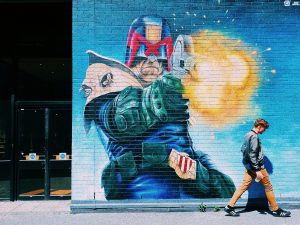 If our round-up on the top 10 pros of working in Shoreditch has probed your interest, then our door is always open. Chat with us about why this location is perfect for your business, and arrange a guided tour around one of our many coworking sites across Shoreditch. We're here to make your move to Shoreditch, the best location, one that's smooth and simple.